Junior Welterweight Scrap Highlights First Installment of "Winners Have Scars" Series
Rich Komissar Promotions and RKO Boxing put together its first installment of the Tommy Gallagher's "Winners Have Scars" boxing series on Thursday night at the Schuetzen Park Ballroom in North Bergen, New Jersey, with junior welterweights Danny McDermott and Bryan Abraham putting on an entertaining scrap in the main event. Four other fights were included on the bout sheet, and following is a recap of the action.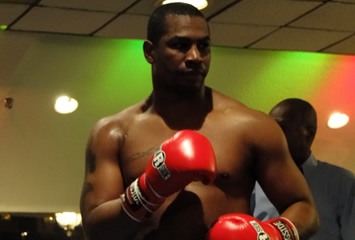 Columbian Santander Silgado made his debut on American soil.
Santader Silgado (19-0, 17) vs. Glen Williams (7-6-1, 5)
Making his debut on American soil, Columbian knockout artist Silgado gave fight fans in New Jersey a quick glimpse at some of the power he is packing behind his heavy hands. The action started at a rather slow pace in this pairing, but the punches of the South American were coming with force when they were thrown. The orthodox fighter was particularly strong in his right hand, and he scored a late knockdown in the first frame after landing one of those power shots. He nearly got Williams out of there as he pounded him on the ropes when the bout resumed, but the Texas native was saved by the bell. The second round was more of the same, and Silgado registered another knockdown when he blasted his opposition with a left-right combo that sent him flailing into the ropes and to the canvas. Williams did beat the count, but the referee in charge took a good look at his eyes and waved off the fight. The official time of the stoppage was at 2:51.
Ian James (1-2, 1) vs. Tevin Farmer (3-2-1, 1)
This pairing pitted New York against Pennsylvania, with Brooklyn's James facing Farmer of Philadelphia. Farmer proved to be a fighter with a very deceptive record, engaging for the fourth time in less than three months and previously fighting just a single competitor who did not have an unbeaten professional record. While James showed his Brooklyn toughness, the skill and speed of Farmer was just too much for him. The Philadelphia resident set him up late in the first frame with a left hand before blasting him to the canvas with a heavy right hook, and James barely survived the round when he got back to his feet. Farmer picked up where he left off in the second frame, immediately attacking his opponent and working him to the ropes before unloading an aggressive dose of power and speed. Just 23 seconds into the second round, the referee had no choice but to jump in and end the assault.
Danny Terrill (0-1) vs. Daniel Crabtree (2-3, 2)
Led to the ring by a bagpiper and greeted by a healthy group of supporters, Terrill looked focused as he stepped through the ropes for his professional debut. He started fast in this outing and controlled most of the opening round, but the momentum began to swing in the second frame. The duo began to engage at the sound of the second bell, and Terrill worked his opposition into the corner and began inflicting some damage. However, Crabtree was fighting back and eventually got himself out of danger and into the center of the ring. Both competitors were extremely gassed when they arrived in the middle, and Crabtree began to throw some blows that did not have much behind them. Terrill began to drop his guard a bit, though, and Crabtree then set up a perfectly placed right hand with a left jab and dropped his Irish counterpart. He then found a second wind when Terrill got back to his feet, but the bell rang before he could capitalize. With momentum completely on his side, Crabtree fired a right cross in the opening minute of the third round that gave him his second knockdown. Terrill displayed his toughness by getting back to his feet and continuing, but he was immediately on the receiving end of some crisp shots that again landed him on his back. At this point, the referee made the right call to stop the bout, giving Crabtree a TKO victory at 1:18.
Thomas Baldwin (2-0-2, 1) vs. Dominique Foster (0-0-1)
This junior middleweight pairing was an entertaining bout between two young fighters, and both participants came to scrap. Both were quick and elusive and had obvious respect of each other's skill. Baldwin did a nice job of bouncing in and out of confrontation, timing his aggression by picking his spots. Foster owned a height advantage, and his approach was more on terms of standing his ground and loading up on power punches. In the third frame of this outing, both were engaging when Foster caught Baldwin just a bit off balance, landing a hard right hand that dropped him midway through the round. However, the New Jersey native popped back to his feet and did not appear to suffer much damage from the blow. In the fourth and final frame, Baldwin had a gassed Foster on his back heels throughout the three minutes of action, but he was just short of landing a kill shot that could secure him the win. While it did appear Baldwin was able to survive his knockdown by winning the other three rounds, two of the three judges did not see it that way. He took one card by a count of 38-37, dropped one by the same tally and then had to settle for a draw when the third decision maker said it was a 38-38 fight.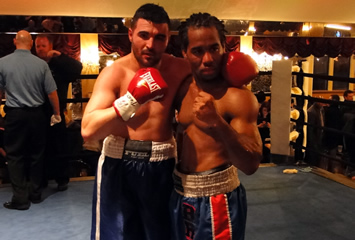 McDermott and Abraham put on a show in the main event.
Danny McDermott (9-3-1, 4) vs. Bryan Abraham (5-10-2, 5)
Owning a very deceptive nine losses coming into this match, Abraham had a tall task in outlasting McDermott, who is trained by Lou Gallagher and had a large group of supporters in attendance. He was in great shape and clearly displayed a nice pedigree of skill, but the grit and toughness of McDermott eventually had him finding his mark with some regularity in the third round. He had his New York counterpart in trouble midway through that frame, but Abraham was able to recover completely after a delay for a low blow by McDermott. Both competitors were showing incredible resilience in the fourth stanza, with neither participant backing down from the aggression of his opponent. Abraham showed that he had a pretty stout chin as he repeatedly got blasted by a series of right hands, but he eventually became dazed and started to retreat. As he backed away, McDermott went in for the kill and applied heavy pressure, forcing the referee to step in and end the bout at the 2:38 mark to send the hometown crowd into an uproar.