Former University of Virginia goalkeeper Chantel Jones has been busy since finishing up her college degree, and she has already been spending time in multiple international locations to kick start her professional career. She first joined Sky Blue FC of Women's Professional Soccer for a 10-day tour of Japan this past March, and she now plays for Icelandic club Thor. Chantel, who also represents our partner GK1 Sports, is kind enough to give Resolution Sports an exclusive inside look while she plays in Iceland, and following is the first installment of her adventures there.
---
I have been in Iceland for 20 days now, but it feels like 20 months! I am playing on a team called Thor from April to September with two other girls from America: Tahnai Annis who played at the University of Florida, and Kayla Grimsley who played at the University of South Carolina.
When I arrived in Reykjavik on April 18th, it was snowing, and we had to drive 45 minutes to another airport to catch a flight to my new home, Akureyri. Now, anyone who knows me knows that I am deathly afraid of flying and even more afraid of flying in small planes. Since the population in Akureyri is around 17,000 people and the airport is only one small runway, the plane had to fit the proportions of the situation. After a very scary and turbulent landing through mountains and clouds, I made it safely to my new home. Our assistant coach, Moli, who drives a very small car, picked us up at the airport. After squeezing in 9 bags and four people, we made our way to the "apartment" we were going to stay in. It consists of one room with four beds and a bathroom. Luckily, this is not our permanent living arrangement, and they are going to move us into a house at some point. There is no tv in our room, so we watch episodes of tv shows that I brought on my computer. So far, we have watched two seasons of Modern Family, one season of The Office, ten seasons of Friends, and are currently on the first season of True Blood. Our days consist of waking up at 11:00 am, eating lunch, coming home and watching tv, going to practice, eating dinner and then doing the same exact thing the next day. The club said they will give us jobs soon so we are excited to get out of the room and have something to do besides lay around all day.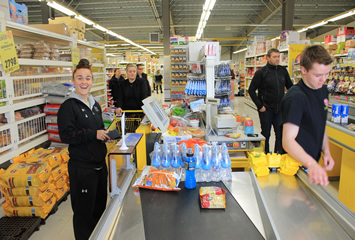 On day two, we had our first practice with the team. Thankfully, almost all of the citizens in Iceland speak English as a second language so it is really easy to communicate with everyone. Practice went really well and was pretty standard as far as practice goes. We did the same drills and games that I used to play with my college team, so I felt really comfortable and in my element.
After practice we were told that we could walk into town and eat one meal a day for free from a restaurant called Bautinn. The only catch was that it had to be the meal of the day. Again, if you know me, you know how picky of an eater I am, and I have a huge problem with trying new foods especially in a foreign country. Since being here, I have tried every meal they have served me (which consisted of some mysterious fried meat that was delicious, scary fish that was not so delicious, strange meatballs and really sweet mashed potatoes, amazing barbeque chicken and rice, more meatballs and potatoes, questionable fish chowder stuff, pizza, and yummy sausage and round potatoes). I have also taken a liking into Doritos - which I never ate before coming here – and Twix. We do not have a kitchen in our room, so we have had to eat all of our meals in town, which had proven to be very expensive. The conversion of dollars to Icelandic kroner is roughly 125 kroner to 1 American dollar. A typical burger and fries at a gas station will cost about 1,000 kroner, which is around $8.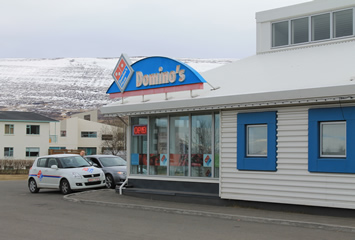 On our third day here, we went to the local grocery store called Bonus to buy a few things to snack on in our room. Grocery stores in Iceland are pretty similar to the ones in America, and they have a lot of American brands and products. There are many American influences in Iceland that has made it easier on us to adjust, for instance, there are three American chain food places in the town that we have eaten at almost everyday, Dominos, Subway, and Quiznos. Since arriving here, I have had Dominos twice, Quiznos once and Subway at least 15 times. The strange thing about Iceland is that everything closes by 7:00, with the exception of the three American chains. Because most of the girls on the team are in school or have jobs during the day, we practice around 6:30pm. This means we get out around 8:00 when everything is closed. I am pretty sure the man in Subway starts making my sandwich as soon as he sees me coming down the street.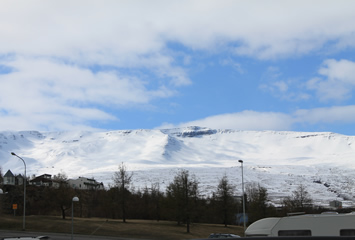 We have not done any sightseeing since we have been here, the only thing we have seen are the mountains surrounding our town and the countryside on our 7 hour drive to Reykjavik to play some warm-up games for the season. The only way to the city is one one-lane road that runs along the perimeter of the country with a speed limit of around 55 miles per hour. The scenery is breathtaking, and I have never seen so much untouched natural beauty like this before. Snow-capped mountains, running rivers, waterfalls, glaciers, and hot springs dominate the landscape. Wild horses and sheep run in the fields and volcanic rock formations pop up in random places. We stopped twice along the way to stretch our legs and eat lunch before we arrived in Reykjavik. We played our game against one of the top teams in the league, IBV, and lost 4-1 but the score of the game was not reflective on how the game went. We played pretty well, created a lot of dangerous scoring opportunities, and showed a lot of potential for such a young team.
This past weekend, we had another two games in Reykjavik in which we won both contests 3-1. We have continued to improve as a team, and I am very excited for the season to start this upcoming weekend. I have been having the time of my life here and am so thankful that I have been given this opportunity to live my dream of being a professional soccer player. This is what I have dreamed of my entire life, and it is surreal to be finally living what I have worked so hard for. I will try and write updates more often so I do not have so much to talk about, and I can give more detail into my time here!
Until next time,
Chantel