Former University of Virginia goalkeeper Chantel Jones has been busy since finishing up her college degree, and she has already been spending time in multiple international locations to kick start her professional career. She first joined Sky Blue FC of Women's Professional Soccer for a 10-day tour of Japan this past March, and she now plays for Icelandic club Thor. Chantel, who also represents our partner GK1 Sports, is kind enough to give Resolution Sports an exclusive inside look while she plays in Iceland, and following is the second installment of her adventures there.
---
Iceland Adventures: New Home and New Experiences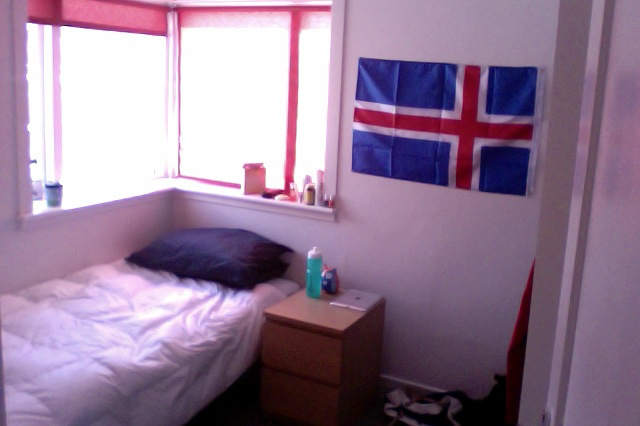 A lot has happened since my last post... We no longer are staying in one room at the guesthouse and have moved into a house! The best part is that the house is located next to Thor and it comes with a boy! Joe is another American that plays for the men's club here and lives in the basement of the house, while us three girls live upstairs. The only compromise we had to make by choosing to live here is that we would have to share the bathroom and kitchen with him. There pretty much was no compromise needed because he is super nice and a great cook, so we lucked out! He is also Italian and his parents own a restaurant, so he has been making us dinner every night since we moved in! My room is small but has everything I need to be comfortable. It also has two windows that look out at the mountains and the game field. I bought a huge Icelandic flag to hang on my wall, but I still need to buy more decorations to dress up the place. The only issue that will arise is when it gets to the point in summer when the sun does not set and my two windows keep me up all night. I will let you know how that goes.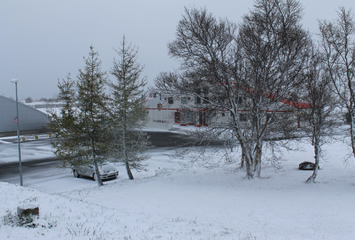 When we arrived, the players told us that this year's summer would be good and that having a bad winter, which they had, meant that a good summer would follow. They were right, the weather started to gradually get warmer, until the blizzard came. Snow, dark clouds that erased the mountains, and a wind that blew constantly at 20 mph for three days replaced the sun. When I say three days, I mean that the wind and snow literally did not stop for three days. It was impossible to see when you went outside and the wind made the temperature extra cold.
Due to the blizzard, our first game of the season had to be played inside the indoor practice facility. This game was also against the defending champion of the league and the team picked to finish first again this year. We started out pretty well but gave up a penalty kick in the early stages of the first half. I read it right and went to save it but the ball bounced over my glove and into the net, putting us down 0-1, but we equalized with a rebound goal right before halftime. We controlled the second half and managed to score two goals back to back in the last ten minutes of the game to seal the 3-1 win. I knew this would be a big win but I underestimated just how excited the team would be. When the whistle blew, you would have thought we won the World Cup! It was amazing to see how much they wanted to win that game, and I am glad that I was here to help.
The last story I want to tell happened just before writing this post. In Iceland they use military time. In America we use AM and PM. After our last time with the team, they told us that practice would be at 6:30, and being normal people, we assumed that meant 6:30 PM because who practices at 6:30 in the morning right? Considering we haven't practiced earlier than 4:00 PM since we have been here, we should have been clear in thinking this way. Well, this morning at around 6:45, I hear a knock on the door. I decide that it is part of my dream and continue to sleep until the knock happens again, this time louder and longer. Realizing that this is not a dream, I answer the door to find Elva, a teammate of mine, at the door in her practice gear and cleats telling me that we need to come to practice now. It took me a few seconds to realize what she was saying, and after asking her three times if she was kidding, we frantically put on our gear and ran across the parking lot to the field. I cannot tell you how practice was because I do not remember and was probably still asleep, but it was pretty funny to everyone else, and I am glad they were not mad that we were late!
Tune in next week for some more exciting stories from Iceland, and have a great day!
-Chantel