Editorial by John Archibald, Team Webster/Resolution Sports

Chavez Defends WBC Middleweight Title Against Andy Lee on June 16th
Some words of wisdom that trainer Denny Brown often instills in Derrick "Take it the Bank" Webster (13-0, 7 KOs) is that you have to be on your toes because things can happen in an instant, and huge opportunities can literally present themselves overnight. Exactly that happened this week, as a call from the camp of undefeated WBC Middleweight Champion Julio Caser Chavez, Jr., (45-0-1, 31 KOs) late on Sunday night had the New Jersey native on a flight to Las Vegas just hours later.
"I got the call Sunday night close to midnight, and Denny asked me if I wanted to go to the Chavez camp because they really needed me," Webster reflected from his suite in Las Vegas. "Immediately, I didn't want to turn down the opportunity, so I started gathering all my stuff up, and I was off at 9:00 the next morning."
No stranger to a world championship camp (having trained with Bernard Hopkins in Philadelphia for his first title defense against Chad Dawson last year), Webster knew he had a huge chance to showcase his talents laying in front of him once his flight touched down on the West Coast. However, the uncertainty of being alone in this new environment had him understandably skeptical at first.
"I had mixed emotions because my trainer wasn't able to come with me," he remarked. "With me and my trust issues, I had some hinderings that made me where I wasn't sure if I wanted to go. If it wasn't for my fiancée, who talked me up about how this wasn't an opportunity I wanted to miss, I'm not sure if I go. She told me how great I was, all those type of things, so I said 'Okay, I'm going.' As I got closer to Vegas, I started realizing that these guys train for millions of dollars. I have to go over there and give my top 'A' game. I have to dig deep and go there to give the best possible work I can. So I was feeling pretty anxious once I finally got here."
After taking Monday to adjust to the three-hour time change, Webster woke up Tuesday ready to put in work alongside Chavez, Jr., and world renowned trainer Freddie Roach. That evening, it was time to show the WBC Middleweight Champion why he made a good move in flying him into his camp.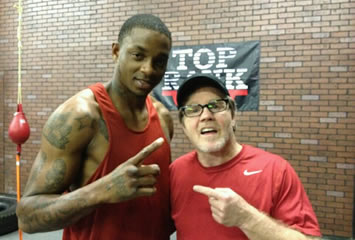 "When I first got to the gym, I didn't feel anything. I wasn't nervous, I wasn't worried," Webster said. "They reached out to me, so they evidently knew why they called me. When I first saw Freddie, that's when I caught my first bit of excitement. Freddie and I pulled up at the same time, so I had to play it cool. I went in the gym, and that's when I saw the other fighters. When Julio got there, he came up and introduced himself with a handshake, and I just started getting ready, man. Everybody was kind of playing around, so I went into my own little corner and started getting myself mentally prepared. Since I was the new gent on the block, I wasn't really getting involved in much conversation until I got out of the ring."
Once he finished getting ready, Webster made his way into the ring with Chavez, Jr. At first the plan was to have him give two rounds of sparring, but that number tripled once Webster showed the work he was bringing to the camp.
"The first night of sparring – I would say the main thing I walked away with is 'I have to stop doubting myself,'" he stated. "I have to believe in myself just as much as my trainer does, as well as my sports writers, my fans, my fiancée and my family. I have to believe in myself just as much as they do. You look at these people who are making millions of dollars, and I'm trying to get where they're at."
The realism of the situation truly struck Webster once he took a look at his surroundings on Tuesday night, and that sparked an even greater internal motivator inside him to keep taking his game to the next level.
"I'm on the other side of the country. How do they know about me?" he asked himself. "Boxing is a small circle, so it doesn't take long for word to travel. I walked away knowing and realizing that I can compete with these guys at this level. When you talk about not being harmed or leaving with a mark on you after sparring, all while really being able to display your talent, I'm realizing that I can actually compete at this elite level. I think this is where I belong, and it really built up my expectations that much more. It made my will to want to get there that much greater."
Gaining that confidence within yourself is a very important step in acquiring the ultimate of successes, and it certainly helps when one of boxing's most brilliant minds confirms to you that you belong.
"Freddie Roach gave me a lot of insight and words of encouragement about the skills I possess and the things I should never have to worry about," Webster remarked. "I take that all the way back to the Bernard camp, where I was also told I have the full and total package. It's always good to hear it from your trainer because he sees you every day, but when you come around Bernard Hopkins, Julio Cesar Chavez, Jr., Freddie Roach, David Lopez – and these guys are in wow of the skill you possess – it takes it to a whole another place. I'm grateful and very appreciative of these guys and their appreciation for the craft I bring to the ring."
Webster will get additional insight from one of the biggest names in the sport on Wednesday, with eight division and six-time world champion Manny Pacquiao scheduled to arrive in the afternoon to meet back up with Roach to put the final touches on preparation for a world title fight against Timothy Bradley on Saturday night.
Chavez, Jr., will be defending his WBC Title against Andy Lee at the Sun Bowl in El Paso, Texas, on June 16th, and that fight will be aired lived via HBO Boxing.