Former University of Virginia goalkeeper Chantel Jones has been busy since finishing up her college degree, and she has already been spending time in multiple international locations to kick start her professional career. She first joined Sky Blue FC of Women's Professional Soccer for a 10-day tour of Japan this past March, and she now plays for Icelandic club Thor. Chantel, who also represents our partner GK1 Sports, is kind enough to give Resolution Sports an exclusive inside look while she plays in Iceland, and following is the fourth installment of her adventures there.
---
Iceland Adventures: Waterfalls and Winning
A lot has happened here since my last post! We have played two games and even went sightseeing. On May 27th we took a road trip to see two waterfalls and a natural hot spring. It was a beautiful day and finally sunny so it made for a perfect day to tour the country. The first waterfall on our stop was about 45 minutes from our town on the side of the main road. I don't know the scale for measuring the size of a waterfall, but on a scale of tiny to Niagara Falls, I would say it was somewhere in the middle. We took way too many pictures and stood way too close to the edge of the rocks, but it was an amazing sight and experience.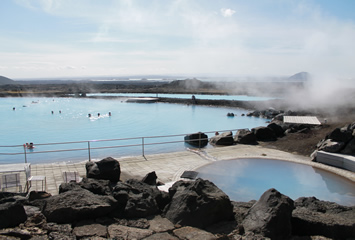 Our next stop was another 45 minutes away at a natural hot spring called Myvatn Nature Baths, or Jardbodin vid Myvatn. The "baths" are geothermally heated by the Earth and have minerals that are beneficial to the skin. We were not expecting to run into Myvatn, so we were not prepared with bathing suits, but we plan to go back very soon and experience the hot spring. Just over a mountain next to Myvatn was a very eerie place called Namaskard where the Earth is literally venting the heat from within. There were pools of grey liquid that were constantly bubbling and looked like something out of a Halloween movie. There were also areas where steam would escape from deep in the Earth. While it all looked very cool and made for great photos, nothing could prepare us for the smell that the steam gave off. I can honestly say that I have never smelled anything that disgusting in my entire life. I cannot even describe what it was like but just imagine the worst thing you have ever smelled and then multiply that by 10.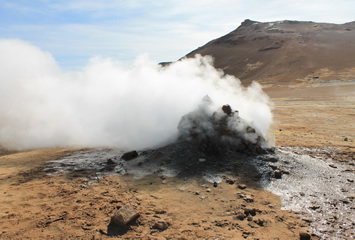 After clearing our sinuses with fresh air in the car, we were finally to our last destination. Dettifoss waterfall is about another 40 minutes from our last location in Myvatn. Once we parked, it was another 15-minute walk to the waterfall. The walk over was just as interesting as the waterfall itself because it was like walking on the surface of the moon with ash and rock stretched for miles in every direction. When we finally reached the waterfall, my jaw dropped. On my scale of ranking waterfalls, I would say this is pretty close to Niagara Falls level. The mist from the water made the brightest rainbow I have ever seen, and the drop was so far we could not see the bottom. It was amazing to see the power of the waterfall and how fast the water came over the edge. The only downside to witnessing the beauty in real life is getting completely soaked from the mist and almost breaking my leg from slipping in the mud. Note to anyone visiting this waterfall: wear cleats and a raincoat because the ground is wet and muddy and the mist is like taking a shower. After ruining my jeans and Toms and getting some awesome pictures, we made our way back home.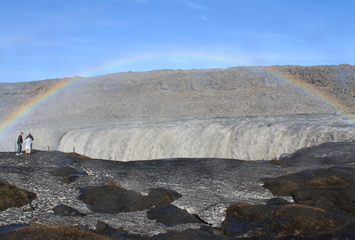 Our first game since our draw against Valur was against a team called FH. Their real team name is something really long and Icelandic so we just say FH. The first half of the game was some of the best soccer our team has played all year and we were up 3-0 by halftime. The second half was a little harder because FH picked up their pressure while we relaxed, and as a result, gave up a goal. After a brief period of freaking out, we settled down and scored again to end the game 4-1. It was a great win for our team, and it kept us at the top of the standings in a tie with a team called Breiðablik, which was the next team we were to play.
For our team, this next game against Breiðablik was the game of the season. The coach of that team was the former coach of Thor, and he left the club and took the captain of our team with him, so this game was personal. They were also tied with us in points for first in the league, so the winner of this game would stand alone at the top. It was super windy like every game played in Akureyri, and we used that to our advantage in the first half. With the wind at our backs, we pressed their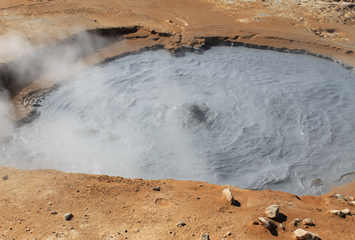 three defenders and constantly played balls over the top. They had a tough time connecting passes and gave up some good chances for our forwards. By halftime we were up comfortably, 2-0. The second half was not so comfortable as we were now going against a strong wind and a team that needed goals. A good word to sum up the second half would be hectic. We basically kicked the ball long every chance we had to hold on to the lead and break their pressure. It was ugly but effective, and we held on for the shutout and the three points. It was great to see how happy the girls on our team were at the end of the game, as well as the fans of the club.
These past two weeks have flown by, but I make it a point everyday to savor each moment because it will be over before I know it. Playing on a professional soccer team in a foreign country is something that I will remember for the rest of my life, and I am so thankful everyday that I get this opportunity!! Sorry for the delayed post, and I will write sooner next time!!
-Chantel
Related Links:
Iceland Adventures: First Installment
Iceland Adventures: New Home and New Experiences
Iceland Adventures: Top of the Table