Former University of Virginia goalkeeper Chantel Jones has been busy since finishing up her college degree, and she has already been spending time in multiple international locations to kick start her professional career. She first joined Sky Blue FC of Women's Professional Soccer for a 10-day tour of Japan this past March, and she now plays for Icelandic club Thor. Chantel, who also represents our partner GK1 Sports, is kind enough to give Resolution Sports an exclusive inside look while she plays in Iceland, and following is the fifth installment of her adventures there.
---
Iceland Adventures: A Piece of Home
Afturelding, Heidi's Visit, IBV
I apologize again for the delayed update on my time here. I guess you can say I am having so much fun, I forget to write! Since my last post, I have had two games and a visitor from America!! Our first game since our win against Breiðablik was against a team towards the bottom of the league called Afturelding. Our coach prepared us well for the game by making sure we knew that the hardest games to win are the games against a team who has nothing to lose. However, we did not heed his advice in the first half and struggled to create chances on goal. Thankfully our defense was focused, and we kept the scoreboard clean until halftime. After we regrouped in the locker room at halftime, the second half was much better and we quickly scored our first goal. Once we scored, the floodgates opened up, and we netted three more to conclude the game with a solid 4-0 win.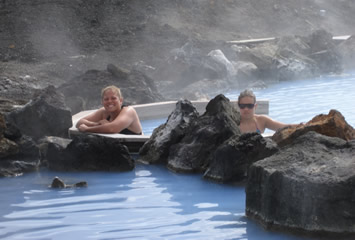 It was great to close out the game with four goals, but I was most excited about the drive back to Akureyri. My best friend, Heidi, from college, was on her way to visit me for the week, and I could not wait to get back home to see her! We had a two-week break in our season, so I was excited to have some time off to show her around Iceland. We went on many sightseeing trips, and I took her to the waterfalls and nature bath that I wrote about in a previous post. This time we actually went into the nature baths instead of just taking pictures and moving on. It was amazing how warm the water was and how soft it made our skin feel. I could not stay in too long because my heart started beating way too fast for my liking. This was also my first trip driving a stick-shift car through the countryside, and I think I did a really good job! All the credit goes to my roommate, Joe, who was a great teacher. A few days later, we went horseback riding on a farm right outside town. I have never been on a horse before, so I was pretty nervous, but they made sure I rode a horse that was a seasoned veteran at carrying new riders. For the rest of the week, we walked around town and on nature trails to take in the scenery. I think Heidi would say that the best day was on Saturday when all candy in Iceland is 50% off. The store is always packed with kids and adults filling their bags to the rim in the candy aisle. I was really sad to see Heidi leave because it was nice to have someone from home here with me, but I was really happy she came and we got to experience Iceland together.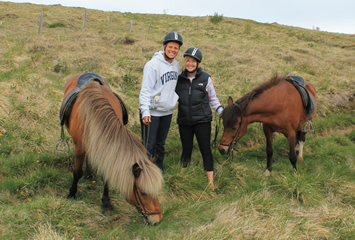 After Heidi left, we still had a whole week without a game, however, we continued to practice and prepare for the next game against a very tough IBV team. Before we started our season, we played IBV in a pre-season tournament, and they beat us, 4-1. This game was important for us to set the record straight and show that we have improved from the past game. This was not the case. We came out flat and gave up two early easy goals and another goal just before halftime. I was furious at myself for not keeping my team in the game, but I tried to forget what happened in the first half and focused on keeping the ball out of the net for the second half. We came out a lot stronger for the second 45 minutes, even with the wind at our faces, and we scored a goal to put us just two goals from tying the game. It was clear that the momentum was swinging our way, and the crowd was rallying to support our comeback. Unfortunately, we could not keep them from scoring a fourth time and putting the game out of reach in the final 10 minutes of the game. It was disappointing to lose with the same result as the previous time we played IBV, but it was encouraging to know that we are very capable of beating that team and the goals that they scored were very fixable. I am looking forward to the next time we play them at the end of our season.
Even with our first loss in the books this season, I am still thankful to be granted the opportunity to play for Thor/KA and live out my dream of being a professional athlete. I am continuing to soak in every minute of my time here and can't wait to write about more adventures that I will have in the future!!
Until next time,
Chantel
Related Links:
Iceland Adventures: First Installment
Iceland Adventures: New Home and New Experiences
Iceland Adventures: Top of the Table
Iceland Adventures: Waterfalls and Winning