Former University of Virginia goalkeeper Chantel Jones has been busy since finishing up her college degree, and she has already been spending time in multiple international locations to kick start her professional career. She first joined Sky Blue FC of Women's Professional Soccer for a 10-day tour of Japan this past March, and she now plays for Icelandic club Thor. Chantel, who also represents our partner GK1 Sports, is kind enough to give Resolution Sports an exclusive inside look while she plays in Iceland, and following is the sixth installment of her adventures there.
---
Iceland Adventures: #Winning
Greetings friends!! It has been another long period between posts, and I am truly sorry, but I have been so busy winning games I almost forgot to write!! I guess that is a good excuse but now I have so much to tell all of you!! Since my last post, we have played 5 games and celebrated the 4th of July, so I have been extremely busy lately.
The Iceland league has a cup tournament during the season, which I found really strange. I never would have thought to play a tournament during the season rather than at the end, but that's how they do things here! We had our first game of the tournament on June 30th against Keflavik, a team from the lower league. I was really excited to start the tournament, until my coach alerted me that we would be flying to Keflavik for the game. Now, if you don't know me that well, you wouldn't know that I am terrified of flying. You might ask yourself, how is someone who has been all over the world and a professional athlete afraid of flying? I never used to be afraid, but I feel as though the more times I fly, the greater my chances of being in a plane crash. Irrational right? I know but that's what I have medicine for!! Fortunately for me, my coach decided to play our other keeper, and I was allowed to stay home for this first game. We ended up winning 5-1, and one of my roommates scored a goal.
When I came to play in Iceland, I was well aware of the size of the country and that I might have to fly to a few games. Our next game was against a team called Selfoss, and we would have to fly to that game as well. There was no escaping the fact that I would have to fly this time, but I had my Valium and I was ready to tackle this flight! After checking the weather all week and popping a pill, we boarded the smallest plane I have ever been on and traveled an hour to Selfoss. I would like to give you a recap of the game, but the truth is that I don't really remember what happened. I know that it down poured during the second half and that we did not play too well but came out with a 6-2 victory!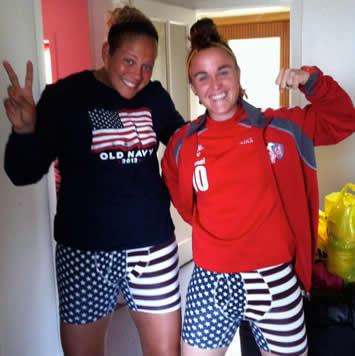 The day after our Selfoss game was the 4th of July, and we planned a cookout to show our teammates how we do it in America. We grilled burgers and hot dogs at the clubhouse and wore American flag shirts! Before the cookout, I sent a message to the team asking them to bring side items and chips and buns. I was talking to a teammate when we were cooking, and she said they didn't bring anything because they didn't know what buns were because in Iceland they them hamburger bread. Overall, I think they enjoyed the celebration of our freedom, learning what buns are and becoming honorary Americans for the day!
Due to the drawing for the cup tournament, our next two games were against the same team and only three days apart! Fortunately for our team, we were home for both of the matches, which meant no flying or driving 6 hours. Fylkir was at the bottom of the standings, but they are a team who fights hard for the entire 90 minutes, so we were expecting a tough two games. The first game was for the league standings, and we played some of our best soccer so far this season. We scored 4 very nice goals and preserved the shutout for a solid win. The second game was not so easy. We came out a little flat and let them hang around until the second half when we scored our first goal. With about 10 minutes left in the game I went to distribute the ball to our left defender. I threw the ball to lead her up the field but it ended up bouncing perfectly off of her heel and right to the opposing teams forward who brought the ball down and slotted past me to tie up the game. Thankfully, we scored a few minutes later to win the game 2-1 and advance to the next round in the cup.
Our most recent game was our league game against Stjarnan, who was in second place at the time. This game was huge because they are the defending league champions, and we had beaten them in the first game of the season at our home. After a long bus trip to Reykjavik, we arrived at the stadium ready to battle for 90 minutes. We came out strong and scored in the 5th minute on a header off of a cross from our winger. Stjarnan is an excellent team, so they continued to play their game and kept the ball well. They got on the board just before halftime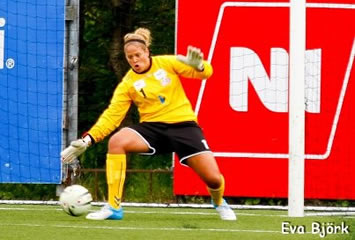 when we failed to clear a cross and their forward took the ball down and snuck it in the far post. The second half was pretty much all Stjarnan, and we struggled to put together passes and keep possession. Unfortunately for Stjarnan, the team that keeps the most possession doesn't always win the game. With about 10 minutes left in the game, one of our forwards got played in behind the Stjarnan defense and slotted the ball around the keeper to put us ahead 2-1. After withstanding the final attacking pushes, we were able to hold on for the very important win. Currently, we are 5 points clear at the top of the standings with 25 points. This is a huge lead, and I am hopeful that we will be able to keep distance from the rest of the group and claim the title in September!
I am so thankful to be given this opportunity and being at the top of the league is an added bonus! I have now been in Iceland for a little over three months and I still love it as much as I did the first month I arrived. I love my teammates and want to play my best and win the league for them more than anything. I just celebrated my 24th birthday on July 20th, and it was the best birthday so far in my life because I have such great and supportive family and friends and a team that I would do anything for!
Until next time,
Chantel

Related Links:
Iceland Adventures: First Installment
Iceland Adventures: New Home and New Experiences
Iceland Adventures: Top of the Table
Iceland Adventures: Waterfalls and Winning
Iceland Adventures: A Piece of Home