Former University of Virginia goalkeeper Chantel Jones has been busy since finishing up her college degree, and she has already been spending time in multiple international locations to kick start her professional career. She first joined Sky Blue FC of Women's Professional Soccer for a 10-day tour of Japan this past March, and she now plays for Icelandic club Thor/KA. Chantel, who also represents our partner GK1 Sports, is kind enough to give Resolution Sports an exclusive inside look while she plays in Iceland, and following is the seventh installment of her adventures there.
---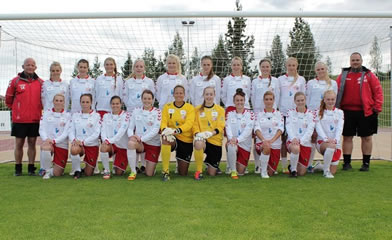 Iceland Adventures: Light at the End of the Tunnel
Hello my friends!! Once again I have waited too long to write another blog post, but a lot has been happening in Akureyri! We have since played 6 games and went on two exciting adventures. Our first game after our huge win against Stjarnan was our semifinal cup match. Because of the way the bracket worked out, we would have to drive back to Reykjavik and play Stjarnan for a third time; and a second time in a row. There was a lot of pressure riding on this game because our club has never beaten Stjarnan three times in one season, and we also have never been to the finals of the Icelandic Cup. The game started out similar to the last game with both teams fighting hard and trying to get an early goal. After 22 minutes of play, Stjarnan got on the board first with a goal off of a 1 v 1 opportunity. Both teams had a few good chances to score but at halftime it was 1-0 for Stjarnan. The second half was all about Thor/KA, and we pressed them non-stop. Less than 10 minutes into the second half, we tied the game 1-1 with a goal from our 17 year-old striker, Sandra. Stjarnan controlled the rest of the second half, but we weathered the storm to send the game into overtime. We had some momentum in the first overtime period, however, we could not score a goal to put us in the lead. As the second overtime started, I could tell that my team was starting to get fatigued, and we needed to score a goal fast before they ran out of steam. Unfortunately, Stjarnan capitalized on a bad clearance in the box, and one of their players one-timed the ball into the far post for a really nice goal. That was the dagger in our comeback, and we could not salvage another goal before time ran out. Stjarnan won the game 2-1 and moved on to the cup final.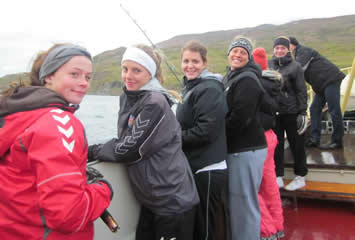 Losing that game was tough because we had some chances to put the game away. We could not dwell too long on the Stjarnan game because another tough match was ahead of us. Valur is close to being an Icelandic dynasty in the premier division, and they were closing in on us in the standings. We tied them in our previous matchup, and this game was very important if we wanted to keep our lead. Valur came out very aggressive and had a few good chances within the first 10 minutes, but our defense stepped up strong and the game stayed scoreless for most of the first half. A few minutes before halftime, one of the Valur players beat our outside back and sent a cross into the box to her teammate, who dove in front of our right back to head the ball into the goal. With the way we played the first half, we were lucky to only be down 1-0. The second half was a lot more even between both teams, and we created some good chances to score but were denied by Valur's goalkeeper. In a momentary lapse, our defense gave up the ball in our defensive third, and a Valur player shot a ball that was deflected into the goal to put them ahead 2-0 in the 55th minute. This hurt our team's momentum, but we were not going to give up and my team always fights till the final whistle. In the 72nd minute, our outside striker broke into the box and was clipped from behind to give us a much needed penalty kick. After converting the goal, we were now in position to make a comeback and try to win the game. Eight minutes later, our 15 year-old player got a ball slotted through their back line and then slipped the ball into the near post to tie the game 2-2. After weathering the storm for the last 10 minutes, we came out with a much-needed one point.
Our next two games were pretty uneventful. We beat FH 6-0 to stay 6 points in the lead of the league and then continued that lead with a 2-1 win over Breidablik. With one week until our next game, our coach took the three Americans and our Swedish player to Husavik to go whale watching. Husavik is the best place in all of Europe to see whales, so we were really excited for the trip. Everyone knows I am afraid of flying, however, I am also afraid of the ocean and boats. I know, I am afraid of everything! Luckily for me, the waves were calm, and there was no need for me to be scared. We got to see a few whales, and I got some great pictures on the three-hour tour.
Our next game was against Afturelding, one of the bottom teams in the league. Even though they were in no position to take the title from us, they were fighting from relegation into the lower division next season. With only four games left, we needed this win to keep our lead a comfortable cushion for the next few games. We had beaten Afturelding 4-1 in our previous match and were looking to take another convincing win in this game, however, they were not going down without a fight. After playing the first half in pouring rain and high wind, we went into halftime tied 0-0. We had the better of the play, but could not finish our chances and kept them in the game. It is always dangerous to keep a team like Afturelding in the game as time runs out, but we had the desire to win and we were going to come out harder in the second half. Less than 10 minutes into the second half, we scored off of a header from my fellow American teammate, Tahnai. We had finally broken through, and Afturelding had lost their drive to keep pushing. We controlled the ball for the rest of the half and had more great chances, but one goal proved enough to get us the three points, and we stayed 6 points clear of the league.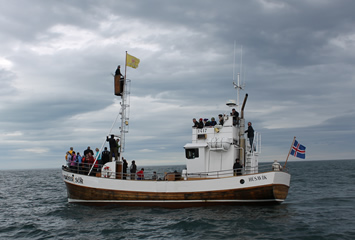 With three games left, we were in a great position to win the league. As a team bonding exercise, our coach decided to take the team fishing in the bay outside of town. Once again, I would have to go on a boat. This time, it was windy and the waves were bigger and more frequent, making for a rough ride. After freaking out for the entire journey to our fishing spot, I calmed down as the waves died down when we started to fish. We were put into teams of two and we told that there would be prizes for catching fish. My partner was Rebecca Johnson; she is a Swedish player who has recently joined our team. We started out slow, but by the end of the trip, had caught 15 fish!! This, however, was not enough to win the prize because two of the other girls caught over 20 fish. They also caught the biggest fish and the smallest fish, sweeping the prizes for the trip. Overall, my team caught a total of 116 fish, and we had an amazing time!!!
Our most recent game was against IBV, the team that is in third place and only 7 points behind us in the standings. If we won this game, we would be champions of the league because no one would have enough points to overtake us in the last two games. This team has been our kryptonite, beating us 4-1 in pre-season and then 4-1 again in our season matchup. This time we had to fly to their field, which is located in a tiny island off the southern coast of Iceland. Yes, this means I was again extremely nervous for the flight, which was amplified when I found out that we would be travelling in two planes that each held 8 passengers. When we pulled up to the airport and I saw the planes, my heart sank to my stomach. The planes were so small they might as well have been cars with wings on them. I have never been on a plane that tiny, and I was scared out of my mind. Once we landed on the Island, I kissed the ground and started to concentrate on the game ahead. The game started off rough for us, and we were on our heels for the first 30 minutes, giving up a soft goal during that time. We started to calm down and play our game and scored a nice goal just before halftime to make the game even. The second half was very aggressive, with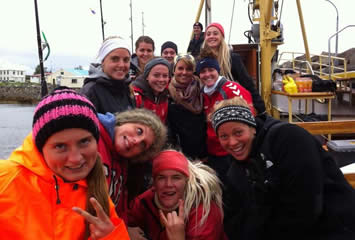 both teams committing a good number of fouls. IBV had some very good chances, but I was able to keep us in the game and the ball out of the net. With about 5 minutes left in the game, we had our best chance of the game, but their goalkeeper came up big for her team and saved two potential goals. At the end of 90 hard-fought minutes by both teams, the game ended in a 1-1 tie. Most people would be disappointed by this result, but it was great for us because we came from behind to steal a point on the road. That one point is extremely important heading into our second to last game of the season because, if we win our next game, we win the league!!! With 3 points next week, we will be 4 points in the lead with one game remaining, and out of reach for the rest of the league.
With all of the highs and lows this summer, I am so fortunate to be on a team that I love and that fights no matter what situation they are in. Winning the league on my first professional soccer team would be amazing, and I will do everything in my power to make sure that happens next week. I will be on my way back to America in 14 days and while I am extremely excited to see my family and friends, I will be sad to leave this beautiful place and some great friends I have made in the past 5 months. Hopefully next time, when I make my last blog post, I will be writing as a champion of the Icelandic first division with Thor/KA!!!
Until next time,
Chantel
Related Links:
Iceland Adventures: First Installment
Iceland Adventures: New Home and New Experiences
Iceland Adventures: Top of the Table
Iceland Adventures: Waterfalls and Winning
Iceland Adventures: A Piece of Home
Iceland Adventures: #Winning