Olympic Medalist Has Sights Set on Winning a Heavyweight Championship
Feature Written by John Archibald, Resolution Sports
It doesn't take long into a fight by undefeated heavyweight Deontay "Bronze Bomber" Wilder (24-0, 24 KOs) to see his superior boxing skills and power are something well out of the ordinary. In fact, it has taken less than three minutes to watch 14 of his 24 victories, and he has only seen the fourth round a mind boggling four times over his four-year professional career. However, what you find when you step outside the ring with the 2008 U.S. Olympic Bronze Medalist may be even more impressive. A loving father who is driven by a daughter who has proven to be a fighter just like him, there is a lot more to this talented athlete who hails from Tuscaloosa, Alabama.
"I've always been a fan of the sport of boxing, you know, just growing up," Wilder reflected. "My whole thing growing up was to become a football player or a basketball player. Ever since I was five-years-old, those were the main sports I played as a young boy. Growing up and coming from Tuscaloosa, we didn't really have too much boxing going on around Alabama compared to places like Philly and New York. In my city, football is big."
Just like football in the South, the six-foot-seven Wilder is also big. Sports were always the plan for him, but the bright lights of the gridiron were the path to which he appeared headed. Boxing was not even on his radar until the 2005 birth of his daughter, Naieya, but that is when he decided to make a few life altering decisions with her best interests in mind.
"I played ball in college, and once I had my little girl – she was born with spina bifida – was really how I got into boxing," he said. "To make a long story short, I had a friend in college, and we used to always talk about what we were going to do and wanted to get out of life, and what are the things we were trying to do to get there. He was the first person I told that I wouldn't be able to play ball anymore because I had a little girl who was born with spina bifida. I didn't know anything about the disorder, so I was just going to get out there and get a job. I told him that I had thought about boxing, and, right off the bat, he agreed with me."
This chance topic among what had become regular conversations between friends could not have been any more conveniently timed, and it was not long before Wilder found himself in the gym.
"You know, growing up, I never looked for trouble, but trouble always found me," he stated. "Everyone knew that if you messed with Deontay, he'll definitely fight. No matter who it is, he's definitely going to throw down. Street-wise, I had already learned some things as far as combat is concerned. But three days prior to that conversation with my friend, a trainer from the local gym had tried to get him to box, but he was like 'Nah, that isn't for me,' so he called me. I didn't know a gym was here at that time. It was crazy. I got with the trainer, went to the gym, walked in the door and saw all the speed bags, heavy bags, guys sparring. It was like a new world had opened up before my eyes. I was like 'This is it. This is me. This is my last opportunity to become somebody famous as far as sports-wise, a famous athlete.' And the rest is history."
Walking into the gym for the first time was a major moment in his life, but none was more important than the birth of his daughter. After being born with spina bifida, a disorder to the spinal cord, Naieya came into the world as a fighter, so it only seems appropriate that this is also when her father turned to boxing to make sure she had everything she needed in order to win her own battle.
"My daughter is my motivation and drive, to take care of her beyond her belief," Wilder remarked. "An old man once told me that once I make the Olympic team, I'm going to be able to support her for the rest of her life. And now after making the Olympic team and doing all that, signing with some people and having some endorsements in the well, too, I'm living the dream. Now I'm in the pursuit of getting the heavyweight belt, and she still drives me. She's still suffering with different obstacles throughout her life at seven-years-old. She's had many surgeries done on her and stuff like that, but now she's doing great. This is a little girl who the doctors said would never be able to walk or have a natural childhood, and she overcame all of that. I tell people all the time, no matter what a doctor or specialist has to say is going to happen, God has the last say-so. She's still a big part of this dream. She's the reason why I started this boxing, and as far as boxing goes, I want to go as far as God will allow me to go in this sport. Every time I make a step, she makes a step, too. I have a tattoo symbolizing me and her holding hands on our road to success. She's been through so much. I've been through so much as well, and we're both taking that journey together, hand in hand. She's very inspirational to me and my life."
Wilder almost instantly found a new home in the gym, winning a National Golden Gloves Championship and USA Boxing National Title before earning his way to the 2008 Olympic Games. He was the only U.S. Olympic Boxing Medalist in Beijing, where he claimed the Bronze Medal, and he still remains the last male American boxer to bring a medal home for the United States. By the time the 2016 Olympic Games come around, he will be the only American Medalist over a 12-year span.
"The Olympics were a great feeling," Wilder said with a clearly evident sense of pride in his voice. "It was a proud moment, representing my country. I was wearing USA on me, and just coming out of the tunnel was crazy. You see so many mixed emotions. You see some people crying, some people laughing, everybody hugging each other. If I could have fought on that last night, you'd be talking to a Gold Medalist right now. It was just one of those things where you had to be there to know what I'm talking about. When I talk about the Olympics, I still get chills. I just think 'Man, I got to represent my country.' Thousands of men and women have tried to make it to the Olympics, and only hundreds of them have made it. And I was one of those people who made it. After all the things I've been through and all the people who doubted me, I made it, and that's a great feeling."
After the Olympics, the next step for Wilder was to become professional, and he immediately hit the ground running. In 24 bouts since his debut in 2008, the hard hitting Alabama native has knocked out every single competitor he has faced, and he has never once heard the bell ring to conclude the fourth round. 14 stoppages have come in the first frame, with four, three and three knockouts coming in the second, third and fourth round, respectively.
"Like I said before, I've been a fighter," he confirmed. "To have that killer instinct, man, it's just something that can't be trained. It's one of those things that either you have it or you don't. When I step in the ring, my mind is clear, my mind is focused on what I've been training to do in the fight. I don't try to go in there and knock anybody out. I don't just try to go in there and get them out. I go in there and let my hands go and just wait for the openings. It's kind of weird, though, because I work on the same stuff so much that it's become muscle memory to me. If you give me a certain look, my body automatically reacts to you."
His opponents have also reacted to him when those moments come, predominately by hitting the canvas.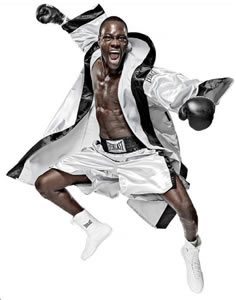 "When I threw my right hand for the first time, it scared the crap out of me," he remembered. "I was like 'Wow. I didn't even have to think about throwing that punch. It threw itself. It had a mind of its own.' I've told myself before not to throw my right hand to just get rounds in. Just go in there and jab, jab, jab, but I just don't want to lose that killer touch. So when I feel that tingling in my right hand and it wants to throw, I just let it throw. The majority of them that get thrown are going to land. I'm the type of fighter who doesn't want to use up too much energy by just throwing a punch, throwing a punch. If I throw it out there, I'm throwing it for a reason."
While he may only have 40 rounds in his 24-bout professional career, Wilder says that people are making a huge mistake if they think he wouldn't know how to handle himself in deep waters.
"I can go 20 rounds if I want to," he stated. "Just because I haven't displayed it in the ring, I don't want people to get fooled about Deontay Wilder. There's a lot that people don't know about me, only what they have seen. I'm telling them, there's a lot more to me. You're talking to the next heavyweight champion of the world. We work hard in the gym, and I know what I'm capable of doing. I'm super confident in my skills and my ability, but, most of all, I give God the glory. If you give God the glory, he's going to give you the victory."
Next up on the docket for Wilder is a bout tonight in Costa Mesa, California, where he will face fellow undefeated heavyweight Damon McCreary (14-0, 10 KOs). The fight was just accepted by both parties last week, and it comes merely one month after Wilder dismantled Kerston Manswell in a first round blowout in Mobile, Alabama.
"I'm always training. After I fight, I take a week off to get my body back adjusted and recovered," Wilder remarked. "It can be a short fight, even a one-rounder. It doesn't matter, I take a week off. Then I'm back in the gym just as if I have a championship fight lined up. That's how hard I train. I'm never out of shape. Most guys, they have a fight, then they lay off from the gym for a couple of weeks or a month. Then they wait until they have another fight and go to camp. Some people think camp is when you get back into shape. When I get into camp, I'm putting in shape on top of shape. When I got this call (to fight McCreary), it was just icing on the cake that I can get a week's notice anytime and be ready to go."
Wilder is a man who is always prepared to fight on the drop of a dime, something that makes Golden Boy Promotions and its President Oscar De La Hoya very happy.
"Oscar was very excited because he wanted me to be fighting on this card," he confirmed. "A lot of people wanted me to be fighting on this card. I just got that call, man, and I was like 'Wow.' It shocked me, and then I said 'Who are we going to fight on a week's notice? Who are we going to fight!' The next day, they gave me the name. We look at it like this. He's an undefeated fighter. He's 14-0, 10 knockouts. A week's notice, two undefeated fighters? That isn't bad!"
Figuring everything goes according to plan this evening in California, Wilder is someone who is very much on the radar of the entire heavyweight division. Many people try to determine who should be next for him, but he makes it pretty easy to understand what his plan is for the future.
"I'm a fighter. I'm not scared of anybody, and I don't run from anybody," he said. "Most of all, I want to give the fans what they want. Whoever they want to see me fight, that's who I want to fight. I'm ready for whoever and whenever."
One heavyweight is currently on his mind as a solid test to take him to the next level in his career, which would be an eventual world championship bout against one of the Klitschko brothers, the two longstanding titleholders in the division.
"I will prove to the world why I am the best, and why they label me as the number one American heavyweight," he stated. "My speed, my power – I'm not even going to mention the power. Everybody knows about that. I'm not even going to touch on that. My speedwork alone is killer, man. I'm ready to fight whoever, but someone I am looking forward to is probably Michael Grant. That's the next guy I want as far as Americans are concerned. I think Michael Grant would be a great test for me as far as height and weight. You know, just a comparison to the Klitschkos in terms of height and weight."
Wilder makes it clear that his entire focus is upon becoming the first American world heavyweight champion since Shannon Briggs lost the WBO strap to Sultan Ibragimov in February of 2007. To accomplish that, he will likely have to go through one of the Klitschkos, but he feels he will be more than ready when that day comes.
"From this point on, my whole mind frame is preparing myself for the champions," he confirmed. "I can't wait until the opportunity to fight the champions. Everybody who has been fighting these champions – the Klitschkos – they've been scared of them. Some have just been going in there because of the money, saying that when you see them in person, they're so much bigger and all of that. I'm going to be like Mike Tyson when he won the belt at 19-years-old. He didn't care about that. He didn't care how big or tall this guy was, or how ugly he was. He just went in there and took it, and that's what you have to do. You have to go in there and take it. These other guys sit around and just make excuses. Nobody wants to hear that junk."
And in his closing thoughts, Wilder had one last message for his opposition.
"Whoever, whenever. No matter where you are, I'm ready for you."