Report by Resolution Sports
Former three-division world champion Miguel Cotto (38-4, 31 KOs) confirmed via his Twitter account on Thursday that he will challenge Sergio Martinez (51-2-2, 28 KOs) for his WBC Middleweight Title on June 7th at Madison Square Garden.
After dropping consecutive defeats for the first time of his career to Floyd Mayweather and Austin Trout in 2012, Cotto linked up with Hall of Fame Trainer Freddie Roach last year and completely devastated Delvin Rodriguez in the first bout with the duo together last October.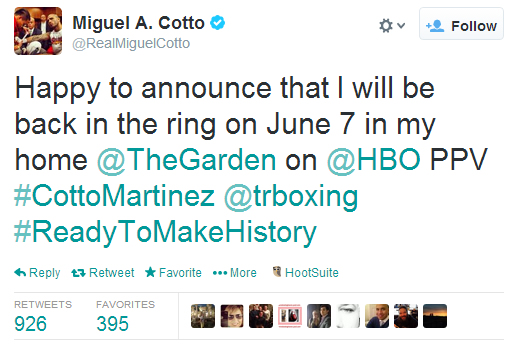 That fight ended with a third round TKO and left many wondering if Roach was the missing ingredient in creating one final championship run for the highly decorated Cotto. Should they find a way to disarm Martinez of his title in June, it would be a world championship in a fourth weight class for the beloved Puerto Rican fighter.
Martinez has just a single defeat in his last 37 bouts, a highly controversial majority decision loss to Paul Williams in 2009 that he emphatically avenged the next year with a devastating one-punch knockout in the second round of a rematch in Atlantic City. The stock of Martinez appeared to never be higher than it was in the first 11 rounds of a complete domination of then-undefeated Julio Cesar Chavez, Jr., a bout that saw Martinez crash to the canvas and barely survive a 12th frame comeback from the Mexican puncher. Following the win, which earned him the WBC Middleweight Title, Martinez underwent the knife to fix a minor tear in his right knee. The Argentine then returned to action seven months later to successfully defend his belt against British fighter Martin Murray, despite going down once again and showing some signs of the wear and tear that a 16-year professional career can create. Additionally, Martinez suffered a fractured hand in that contest and will have been out of the ring for 14 months by the time he meets Cotto in June.
Assuming Martinez will arrive at Madison Square Garden healed and in good health, as well as the Cotto-Roach pairing being as good as it has looked early, this fight will unquestionably be one of the most intriguing and possibly entertaining bouts of 2014. Both fighters are respected by everyone within the boxing community, and it definitely has the components of making an incredible fight. Hosting it in front of 20,000 screaming fans at the Mecca of Boxing sure won't hurt it, either.