Special to Resolution Sports
On the Racecourse and in the MMA Cage
The quaint little spa town of Cheltenham has plenty of attractions and curiosities for the eager traveler – rivers, lakes, and streams suitable for the tranquil joys of fly fishing; verdant rolling hills and expansive farm fields; and of course, the famous mineral spas that promote healing and wellness. The beguiling serenity of Cheltenham belies its surprising capacity to be a veritable hotbed of activity during one of the most historic and prestigious sporting events anywhere in the world. Yes, indeed, the Cheltenham Festival is a yearly horse racing competition that draws many of the most superbly trained horses and well-conditioned jockeys from all over the United Kingdom to compete in several different races stretched out over four days. This same spirit of competition can also be found in another sport that is increasingly growing in popularity: mixed martial arts (MMA). A fair number of boxing and MMA gyms are dotted around Cheltenham, catering to people from all walks of life.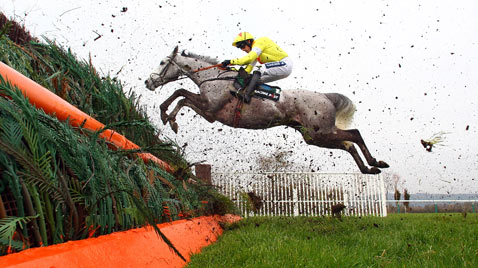 One fine example of a thriving MMA center in Cheltenham is the Trojan Free Fighters. Currently owned by fitness instructor and personal trainer Dan Richards, Trojan Free Fighters accommodates MMA enthusiasts of all skill levels – from the 40-year-old father of two looking to learn jiu-jitsu as a way to lose weight and get back in shape right up to the professional fighter who just needs that extra push to get to the elite levels of MMA. Led by former ISKA champion and Head Coach Paul Sutherland along with Assistant Head Coach Matt Ewin (a former Cage Rage middleweight champion), the team of instructors over at Trojan Free Fighters cultivates a competitive camaraderie that pushes everybody in their Pro Fighter team to strive and work harder on a daily basis. Bellator heavyweight Mark Godbeer is a product of this intense environment, where no big egos are tolerated and every fighter is a part of a tight-knit family.
Much like boxers and mixed martial artists draw energy from the roar of an appreciative crowd, the famous "Cheltenham roar" emanating from thousands of audience members inside the Cheltenham Racecourse as the tape lifts for the inaugural race is an awe-inspiring phenomenon that's practically a beloved tradition at the Cheltenham Festival. Interestingly enough, the Cheltenham Festival usually coincides with St. Patrick's Day, inevitably resulting in an annual affair of revelry and excitement borne out of the combination of two memorable occasions. Aside from the usual St. Paddy's shenanigans, there are significant amounts of cash changing hands from a steady stream of wagers and parlays as winning horses emerge from the Champion Hurdle, Champion Chase, World Hurdle and Gold Cup – widely regarded as the four feature races of the Cheltenham Festival. One man who's all too familiar with being victorious in the Cheltenham Festival is Paul Nicholls, the current (and seven-time) National Hunt champion trainer, who has trained a whopping 33 Cheltenham Festival winners. Even more amazingly, the Betfair brand ambassador has trained 2,322 winning horses to date in his ongoing illustrious career. Nicholls' tremendous success in his sport only underscores the importance of an experienced and motivated trainer or coach in learning any worthwhile endeavor, especially a multifaceted discipline like mixed martial arts.