Ringside Report by Resolution Sports
Dmitriy Salita's Star of David Promotions hosted a night of boxing entitled the Brooklyn Brawl on Thursday night, with five bouts being on display at the Millennium Theatre in Brooklyn.
Main Event: Stivens Bujaj (11-0, 8 KOs) vs. Elvin Sanchez (6-3-1, 5 KOs)
In the feature fight of the evening, the New York State Cruiserweight Championship was on the line. Yonkers native Stivens Bujaj was the clear cut fan favorite before the bout began, and, with that in mind, Elvin Sanchez immediately came out firing in an attempt to suck the momentum out of the room. All the while, Bujaj maintained his composure and did not allow his opponent to overwhelm him at all. As a matter of fact, he did the exact opposite and used the overpusuance by Sanchez against him.
Cautiously backing into a corner, Bujaj lured Sanchez into pressing forward, and he then exploded with a counter left hook that instantly crumbled his opposition. Sanchez was able to beat the 10-count and continue, but the fight would not last much longer. When the action resumed, Bujaj proceeded to batter Sanchez all the way around the ring until the referee in charge was forced to step in and stop the contest at the 2:22 mark of the opening frame.
Steven Martinez (14-1, 11 KOs) vs. Rahman Yusubov (9-14, 7 KOs)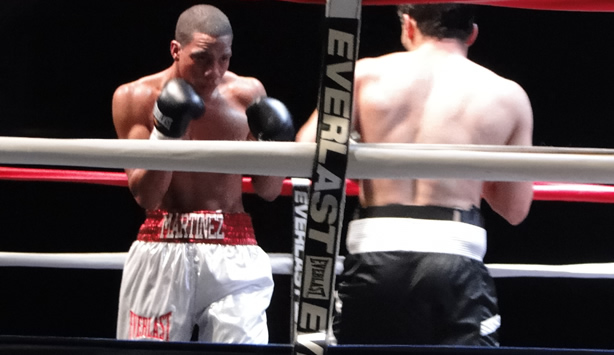 Bronx middleweight Steven Martinez put on a stellar performance to break down a gritty veteran in Rahman Yusubov over six rounds. He showed great poise and an unquestionable sense of calmness that proved to be the perfect response for the aggressive nature of his opposition. Martinez first found a home for the left hook in the opening frame, and he began to cause noticeable damage with a body attack in the second round. Both components were great setups to his work in the middle to late frames, where he repeatedly feinted with the left shoulder as if he was going to the body, only to quickly snap powerful left hooks to the head as soon as Yusubov reacted to what appeared to be impending body shots.
At the start of the sixth and final round, Martinez came forward and immediately unloaded a thunderous left hook that buckled Yusubov. With his opponent in an obvious state of great danger, Martinez did not let him off the hook and quickly trapped him on the ropes, pounding on Yusubov until the referee had no choice but to jump in and stop the action.
The official time of the stoppage was just 26 seconds into the final frame.
Remaining Bouts
Staten Island native Dimash Niyazov (5-0-1, 4 KOs) remained undefeated in a win over the game Jonathan Cuba (7-6-1, 5 KOs), who stepped into a flush right uppercut just 18 seconds into the third round that put him out on impact… Junior lightweight Angel Garcia (7-2, 2 KOs) outclassed Micah Brown (2-9-1) over four frames, showing better ring generalship and getting the better of the exchanges. The sixth and final round provided the best action of the bout, with both men essentially fighting inside a phone booth. When the closing bell rang, Garcia was the man who emerged victorious, claiming a 60-54 tally to go with a pair of 59-55 counts from the ringside officials… In the opening fight of the evening, the pace was a bit slow over the first three frames as 140-pounders Marcos Suarez (2-0-1, 1 KO) and Samuel Moura (0-4) appeared to be a bit timid with their offense. In the fourth round of the contest, Suarez was finally able to hurt Moura in the corner, but he allowed him to escape the vulnerable position and get on the run. Suarez then tracked him down and landed consecutive straight right hands that backed up Moura, ultimately leading referee Eddie Claudio to step in and wave off a questionable stoppage with only 12 seconds remaining in the fight…